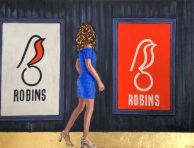 This is a play on the two football teams we in Bristol are lucky to have; Bristol Rovers and Bristol City.  I came across the two new City posters  'Robins' on North Street where I live and the germ of an idea came to me.  The Robin is the new logo for Bristol City and Ashton Gate Stadium, home to Bristol City (and recent Spice Girls venue), is down the road from North Street. My area, Bedminster, is a big City supporter.
North Street plays host to Upfest, Urban Paint Festival,  each year, when street artists from all over the world descend on Bristol and paint every available wall space with beautiful sometimes thought provoking street art.  I'm thinking @jody_artist here !  I am so lucky to have all this inspirational art to work into my compositions.  I always try and obtain the street artist's permission before I incorporate their street art into my own work.
Bristol Rovers supporters wear blue, Bristol City red, so I had the idea of placing my trademark woman in blue walking past the red Robins.  As always in my work, the positioning of the woman changes the dynamic of the street art and vice versa, the 3d woman bringing the 2d street art to life.
If you would like to be kept up to date with what I am doing in the next few months please sign up for my Newsletter at the top of the Home page.  I am also on Twitter, Instagram and LinkedIn.  I also have a Facebook page called Miche Artist.
Mixed media, oil, acrylic and goldleaf on canvas board.