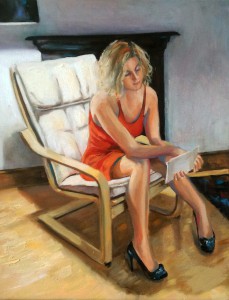 I am very pleased and proud to tell you that my website is now live. Please do have a look and sign up for the Newsletter at the top of the Home page. I will be sending out quarterly Newsletters telling what I have been up to. Feel free to give me any feedback too. There will no doubt still be a bit more tweaking before I get it completely right, but I am indebted to my wonderful nephew for completely revamping my site, and yes, it did need it – big time.
There are a couple of slight hiccups with iphones and ipads not getting the Line Art images, but we should be there in the next day or two, so please bear with me one more time.
Henceforth, you will find my blog on the website as opposed to a separate link, which should be easier for everyone, including myself!
So, to 'The Result' which is now completed. I have been adding glazes to the background wall to give more shade and bring out the light from underneath the lampshade. Glazes are great for adding depth gradually to a painting and I have done similar on the skin tones as well.
I then thought the painting looked a bit dull overall, so out came my blue and pinks paints, but they had to be in warmer tones to compliment the red dress, so could not go quite as vivid with the pink as I would have liked!
www.michewatkins.com