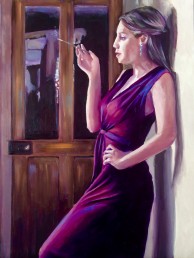 "I am always doing what I cannot do yet, in order to learn how to do it."  Vincent Van Gogh.
This quote was completely right for this week's post.  I was certain this morning that the painting would be finished today.   However, the more I painted in the detail, the more I realised I am still learning and that I have a way to go yet.  Each time I thought I had completed one area, I would look across and see another area unfinished.  I would work on that and then look back at the piece I had just been working on, and realised I still had more to learn.  But at least I am learning.
I think with a larger canvas, an artist can be freer, more expressionistic in style, using larger brushes and being braver with colour.  With a smaller canvas like this one (10 x 8″)  however, one has to tighten up, smaller brushes, more detail, less room for mistakes.
Both canvasses work for me, and I enjoy the challenge of both. So it will be one more week on this piece to get all the details and colour right.  Still not sure about a name yet either …
If you would like to be kept up to date with what I am up to please sign up for my Newsletter which is at the top of the Home Page. I send the Newsletter out quarterly.   I also have a page on Facebook called. Once Artist and am on Instagram.