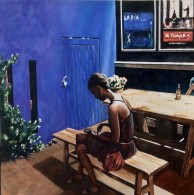 This is, for me, a larger piece at 76 x 76 cm ( 30 x 30″ ).  This is because it will be going to Cape Town when the paint has dried and South Africans prefer larger artworks in their lovely, sunny, high ceilinged spacious homes.   State Of The Art gallery is taking it (http://stateoftheart-gallery.com) and I look forward to seeing it hanging in their new permanent space at 50, Buitenkant.   This gallery is first and foremost an online gallery, but has had gallery space in Shortmarket Street for the last couple of years. I look forward to seeing the new gallery opening in August.
I intend to paint a series of works depicting local scenes with my trademark woman in the foreground somewhere.  I am interested in street art and graffiti, and would like to preserve them in my paintings, as of course by their very nature, graffiti/street art regularly gets painted over.  There is a wealth of talent in and around Cape Town, particularly in Woodstock and I can't wait to get started.
The Labia in this painting is South Africa's oldest working cinema, much like the Curzon here in England in Clevedon, down the road from where I live  now in Bristol.  It is a fabulous place with 4 screens and proper home made popcorn on the premises.  You can sit and watch the latest films with a glass of good wine and your popcorn. The name derives from Princess Labia who opened it back in I think, the 1940's.  I couldn't resist using the name in the title for fairly obvious reasons…
I added in the detail of the door in the blue wall at the last moment , as I felt the blue mit detract too much from the young girl in her phone.  This photo I took formed for me a perfect composition.
If you would like to be kept up to date with what I am up to in the next couple of months, please sign up for my Newsletter at the top of the Home Page.  I am also on Instagram and Twitter and have  Facebook page called Miche Artist as well as my usual Facebook page.