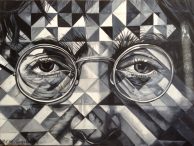 This work was a commissioned piece by a very dear friend of mine who has an aggressive ongoing illness.  I am not sure what will happen to this work, but I don't think I could bear to sell it.   Maybe it will stand alone as an artwork showing what I am about with my art.
I have the permission of the street artist Kobra to paint this work based on a wonderful colourful piece of his street art painted here in Bedminster where I live.
My apologies for a short blog this week.  I am very sad just now. Please read the last blog for more info on this work.
If you would like to be kept up to date with what I am up to in the next few weeks please sign up for my Newsletter at the top of the Home page. I am also on Twitter, Instagram and have a Facebook page called Miche Artist as well as my usual Facebook page.