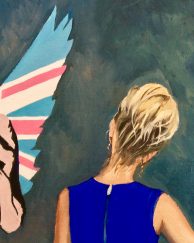 This is the next painting in the series I am devoting to Amy Winehouse inspiration (see previous Blog for more info).
At the moment it is early days, hence the small detail, but my idea behind the concept for the piece is as follows:
I am a big admirer of @pegasus street art which I see on Instagram.  I did not take my own photo of this particular Pegasus work, but loved it and obtained his permission to incorporate it into my own work.  I intend to paint my own version of it and am then going to paint my own trademark woman standing in front of the streetart in a reverse image of Amy's own stance, ie. backview.  I think this composition will work well.  I am using a blonde woman as a contrast to Amy's dark and beautiful hair.
The title for this painting will again be taken from music titles to Amy's own music.  As stated in the last Blog, I have her mother Janis' permission to do this.  So the title will be 'Back To Black'.
These works, plus a selection of my other paintings will be shown at Roy's People Art Fair 1-4 November at the Bargehouse, Oxo Tower, London.  Please come along and introduce yourself to me, I would be delighted to meet you.
If you would like to be kept up to date with what I am up to in the next few weeks please sign up for my Newsletter at the top of the Home page. I am also on Instagram   Twitter and have a Facebook page called Miche Artist.  Feel free to email me.