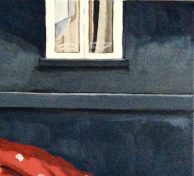 This will be the last of my current series of works based on Amy Winehouse.  I am taking part in Roy's People Art Fair 1-4 at Bargehouse, Oxo Tower Wharf, London and am desperately trying to complete it in time for the oil paint to dry and then temporary varnishing, oh and of course framing 🙂
I saw this wonderful street art of Amy in Camden last year and immediately thought it would work in one of my compositions.  It is painted by @zabouartist and I have her permission to incorporate it into my own painting.  Amy is featured lying on her side looking directly at you, holding a microphone.
I am painting my trademark woman in the middle of the street art with her back to Amy, busy looking at her phone.  To me the work is showing how the woman is so absorbed in her smartphone she is completely oblivious of the beautiful, poignant art behind her.  It is perhaps a metaphor of our own relationship to our phones.  We are not 'smelling the roses' any more.
I decided to have the model in a dress that Amy might have worn, and I think she would have approved of the pink trainers – more of that in next week's blog when I hope to (and must) have finished the work!
Please come to the Art Fair if you are in London, and introduce yourself to me as I love meeting people and talking about my work. Roy's People Art Fair details are on Instagram.
If you would like to be kept up to date with what I am doing in the next few weeks please sign up for my Newsletter at the top of the Home page.  I am also on Twitter, Instagram and have a Facebook page called Miche Artist.  Feel free to email me at michetoots@yahoo.co.uk.