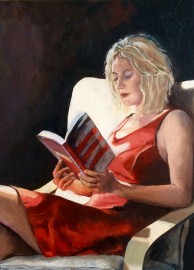 A smaller, quieter and reflective piece – and as yet unframed.
Decided in the end not to give the book a title, as it might look a bit too 'precious';  better to let you, the viewer, decide what she is reading.  I do feel, though, that she is searching for something in this book, hence her deep concentration and the title of the painting.
I had intended to soften her blonde hair to have it more in keeping with the smooth fabric of her red dress, but in the end couldn't bear to tone down her unruly hair, which was such  fun to paint.
I was surprised how much the red tones of the dress played onto all the surrounding areas, her flesh, the book, the chair etc ., so much so that I could not resist adding a touch of red/burnt sienna into her blonde hair ….that's the fun of being an artist, you get to choose!
This work is 14 x 10″, 35 x 25 cm and is available for sale.
If you would like to be kept up to date with what I am up to in the next few months, please sign up for my Newsletter at the top of the Home Page.  Thanks