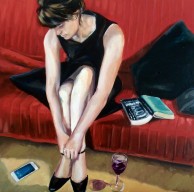 Really enjoyed completing the detail on this painting.  When I think a work is finished, I turn it upside down to check details again, as mistakes will always show up, not sure why.  The same is true if you look at a work in a mirror. Maybe the eye gets too attuned to the work and you can no longer see the wood for the trees.  Whatever it is, it works every time.
I was tempted not to put in the fabric detail in the sofa, but in the end am glad I did as it adds emphasis.  It's always difficult not to overwork a smaller painting.  Bigger works involve bigger brushes so less chance of that!
Building up of glazes adds delicate layers to the work, which works well on smaller paintings.  It has also been interesting painting square for a change. The Ampersand board has been a real find for smaller works.  The smaller brushes glide so smoothly over the surface.
I wanted to convey the eager anticipation before a girl goes out on a date, something I remember from my youth :-).  It's such a happy feeling and the anticipation is sometimes more exciting than the actual date!
If you would like to be kept up to date with what I am up to in the next few months, please sign up for my Newsletter at the top of the Home page.  I will be sending out the next one in a couple of weeks. I am on Instagram and have a Facebook page called Miche Artist.