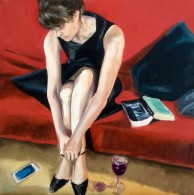 I am really enjoying the painting this week. As I said last week, I was told that a touch of red adds pizazz to an artwork and I realised again how true this is. I love the contrast between the red of the sofa and the black of the dress and adding a touch of red and black to the flesh tones is really pulling the composition together.
It's a gentle piece, a girl getting ready to go out, waiting for the phone to ring to say the taxi has arrived to take her on her date. I put the glass of wine in as she might be nervous and needs some Dutch courage, or maybe she is just having a glass of wine as she relaxes.  The book is discarded as she is 'nearly ready'.
Much looking forward to the detail next week.  This is a square painting for a change and is painted on Ampersand Board.
If you would like to be kept up to date with what I am up to in the next few months, please sign up for my Newsletter at the top of the Home Page. I usually send these out quarterly so will be sending the next one out next month.  I am also on Instagram and have a Facebook page called Miche Artist.