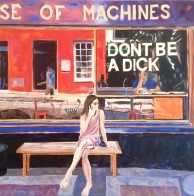 This is a larger piece which I am hugely enjoying.  Beginning to pull it together now and making the composition work.  Because of its size (80 x 80 cm) which is large for me for an oil painting, I am breaking it down into four quarters and working one quarter at a time.  In an orderly clockwise direction.
Or at least that was the  intention …..
What REALLY happens is that I start mixing some fabulous pink or blue or vivid red paint on my palette, begin putting it on said quarter and then my eye is drawn to a completely different area where I think that colour would work as well.  So off I go, and my neat plan is screwed.
However, the advantage of this is that the colours are really drawing the picture together and if you are looking at one part of the painting, your eye is then automatically drawn to another, different part of the work.  Clever stuff, eh?!
This piece, as mentioned in the last blog, is for the gallery in Cape Town (see previous blog for details) and I am now gearing up to paint similar works for the Bristol gallery (again see previous blog) using iconic buildings on North Street where I live and paint.  North Street is full of great independent shops, cafes, bars etc and I can't wait to get my camera out this weekend and get started.
I will be exhibiting at ArtExpo in New York next week (previous blog for details). If you are in the area, come along to Pier 94 and see my work for real.
If you would like to be kept up to date with what I am doing in the next few months, please sign up for my Newsletter at the top of the Home Page.  I am also on Instagram, Twitter and have a Facebook page called Miche Artist as well as my usual Facebook page.  Come and have a look .