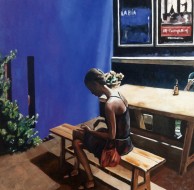 This is a larger work than usual for me, 80 x 80 cm (32 x 32″) and is one of a series I hope to be sending off to Cape Town gallery, State of The Art (http://stateoftheart-gallery.com) which is an online gallery with a permanent presence about to open at 50, Buitenkant in August, moving from Shortmarket Street.
I have in mind to paint pictures using iconic Cape Town backgrounds, much as I am intending to do with Bristol at Great White Art gallery, (http://greatwhiteart.com).  These backgrounds could be recognisable like the above, or involve street art and graffiti.   The paintings will always have my trademark woman somewhere in the composition.
The above work is so called, because this girl is sitting just outside the Labia cinema in Cape Town, South Africa's oldest working cinema so I am told.   People smile at the title, but said cinema was opened by Princess Labia in the 1940's.
I have been adding in much more colour than is in the original composition as I felt the painting was getting a bit sombre and I am in the mood for brighter colours, so will probably add in more next time when I get down to the detail.   Artistic licence allowed.  Can't wait to refine this one.
If you would like to be kept up to date with what I am up to in the next few weeks, please sign up for my Newsletter at the top of the Home page which I send out quarterly.  I am also on Instagram and Twitter and have a Facebook page called Miche Artist as well as my usual Facebook page.