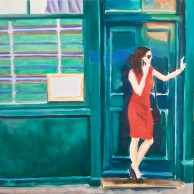 I am working on a series of paintings at the moment with my trademark woman in front of an interesting and recognisable Bristol backdrop.  I have taken a lot of photos of North Street, the street where I live, as it provides  a centre each year for Upfest,  a street art festival held in July. Graffiti and street artists from all over the Uk  and Europe descend on North Street and cover virtually every available space with some pretty spectacular art.
I have also been roaming around the 'people's Republic of Stokes Croft' which is a myriad of wonderful paintings, murals and street art as it is a hub for artists, much like North Street.  I am very excited.
Further afield, I have been wandering around the streets of Camden and Kentish Town in London for the same reason and in the future hope to paint several paintings featuring some amazing backdrops for my woman sliding past, and no doubt including Amy Winehouse somewhere, as she and Camden are synonymous.
I plan to do the same with Cape Town and my 'Don't Be A Dick' was the first painting I did which gave me the idea for all of the above.
The painting featured here is of The Hare, a well known pub on North Street.  I am not usually a fan of painting green in any form (no idea why), but the pub IS green and green and red are complimentary colours on the colour wheel; the model was wearing a red dress, so …….. I feel this work will really compliment my painting 'Bristol North Street Blues…. Reds & Oranges' as discussed in recent blogs.
If you would like to be kept up to date with what I am up to in the next few weeks, please sign up to my Newletter at the top of the Home Page.  I am also on Twitter, Instagram and have a Facebook page called Miche Artist as well as my usual Facebook page.