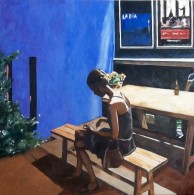 Strange title possibly ?!
The Labia is South Africa's oldest working cinema and is such an iconic place.  It was founded by Princess Labia around 1945 I think, and is one of my best go to places to visit when I am in Cape Town.  It is a small theatre but has four screens and has a small bar with snacks available, both of which you can take in with you to see the film.  The usherette is a fabulous local who has been at the Labia for as long as I can remember and you can get home made popcorn which always smells delicious and costs a fraction of the stuff you buy here in England. It's a real favourite with the locals and shows all up to date films plus more arts based ones.  I love it.
I came out from the film and saw this young woman on her phone. The lighting, the pose, the colour of that wall – my favourite shade of blue – all conspired to make me feel a painting coming on.
I will be adding in more zestful colours as I go along and need to accentuate the lights and darks more – Caravaggio got it right, didn't he? Chiaroscuro makes a painting of much more interest and it has taken me a while to work this out !
The posters both describe films on at the time, LaLa Land and Trainspotting 2, but I can't decide whether to paint these in, as they might date the painting.  Does anyone have any ideas?   Feedback would be welcome.
If you would like to be kept up to date with what I am up to in the next couple of months, please sign up to my Newsletter at the top of the Home page.  I send Newsletters out quarterly.  I am also on Twitter and Instagram and have a Facebook page called Miche Artist as well as my usual Facebook page.