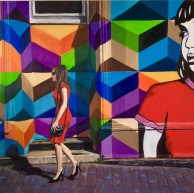 This is a wonderful piece of street art which I felt would really compliment one of my paintings featuring my trademark female.  The colours are so vibrant and alive, although the painting of the geometric shapes proved very taxing for this impatient artist.  I like the result at last.
It was a cold morning in April when I set this up and am indebted to the model as she braved the east winds of Bedminster to slide past this street art.    She attracted many an admiring glance in her high heels and red dress as the rest of the population on North Street wrapped up in scarves, hoodies, gloves et al.
I always have mixed feelings about street art.  I love the immediacy of it all, and can stand watching for ages as these artists produce such wonderful imagery with their aerosols and paints, usually using a small postcard as a guide to the finished large piece.  I say mixed feelings, because sooner or later the said piece is destroyed by a new work being painted over it!  This is particularly true of here in North Street where we welcome Upfest every year.  This is, I think, the largest street art festival in Europe?  Many artists from all over the UK and beyond descend on North Street to use every wall space, hoarding etc, available and the result is a riot of colour, but we do lose some spectacular art in the process.  I am thinking Dan Kitchener here !
If you would like to be kept up to date with what I am up to in the next few weeks, please sign up for my Newsletter at the top of the Home Page.  I send these out quarterly. I am also on Instagram and Twitter and have a Facebook page called Miche Artist as well as my usual Facebook page Miche Watkins.