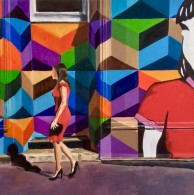 A painting I never wish I had started 🙂
It's a great subject, full of colour and a lot of time and thought went into the composition for what would be a square canvas work.  But oh those patterns !  I do not want to fall back into painting too tightly, too realistically, as I believe I am too impatient for that; but how does one achieve these geometric shapes with all their beautiful angles, colours and tones ? Answers please, on a postcard to……
The solution possibly this time around is going to have to be a fairly realistic take on the patterns, but go more freely when painting the woman and the foreground. Will be interesting to see how this one pans out.
My aim is to paint a series of Bristol based works with recognisable backgrounds for the trademark woman in the foreground, and then in similar vein for Cape Town which I know pretty well now and have a deep abiding love for.  Both series will involve a lot of colour 🙂
I am thinking about adding more words to some of the paintings, along the lines of 'Don't Be A Dick' as this brought a lot of interest on Twitter, unexpectedly.  Any thoughts ?
If you would like to be kept up to date with what I am up to, please sign up for my Newsletter at the top of the Home page.  I send these out quarterly. I am also on Twitter, Instagram and have a Facebook page called Miche Artist alongside my usual FB page. Feel free to leave comments on my Blog. Cheers.