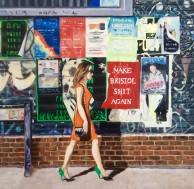 I have changed the title to this piece from 'Bristol Shitty' to Make Bristol Shit Again' as I felt it gave the impression Bristol is a bad place to visit or live in.  Far from it.  Bristol is a vibrant, buzzy city full of artists who come up with tongue in cheek posters like this one in Stokes Croft.
I have had a few queries from people who follow me on Twitter from abroad who think I am mocking Bristol.  Far from it again.  The Brits have a self-deprecating, laid back sense of humour, hence this poster and why I like it so much.
I am nearly done with this work, but need to tone down the background a little more to make the red poster and the woman stand out more, hence no visible writing on any of the other posters.  I also need to refine the lower part of the painting more, the legs, pavement and bricks.  I just got too tired last night, so another couple of days.
My aim is to try and preserve in my paintings some of the stunning street art that is around in our cities, because of course street art /graffiti is ephemeral, so I need to keep busy and paint fast.
If you would like to be kept up to date with what I am up to in the next few months, please sign up to my Newsletter at the top of the Home Page.  I am also on Twitter, Instagram and have a Facebook page called Miche Artist as well as my own page.