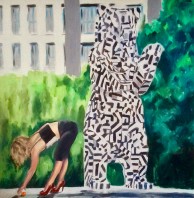 I have to admit this painting could never work in reality.  The iconic Bearpit Bear in Bristol stands on a massive roundabout in one of the busiest parts of the centre of Bristol.  There is no way anyone could stand so close to this Bear.  I have wanted to paint it for a long time, but have again set myself a difficult task.
I felt the Bear on its own was not what I was after, and having completed my three Bristol City Rover paintings involving a brunette, decided it was time for a blonde.  Please see the originals at http://greatwhiteart.com, Great White Art gallery on Perry Row in Bristol
The Bear is deliberately turned away from this young woman to spare its blushes as she bends over to pick up an orange.  I decided on an orange purely to add a dash of colour to the piece.  An onion wouldn't have worked as well…..
I shall probably paint three works again depicting local Bristol scenes involving my blonde.  I like using street art and graffiti as a background, as I want to preserve them for the future.  Street art by its very nature is ephemeral.
If you would like to be kept up to date with what I am up to in the next couple of months, please sign up for my Newsletter at the top of the Home Page.  I am also on Twitter and Instagram and have a Facebook page called Miche Artist as well as my  Facebook page.
reserve