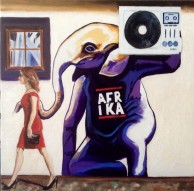 The start of a new piece which always excites me.  This one is for Cape Town and features a wonderful street art seen in Woodstock.  It is 80 x 80 cm. I just loved the way the air conditioning unit has been incorporated into the elephant listening to its radio.  I would like to think it is a heavy rap theme.
Originally I was going to place my trademark woman to the right of the canvas, but have since decided she should be walking past the elephant  who I would like to think is giving her a leery smile.  My juvenile sense of humour showing here, but I think it works.
Street art and graffiti is a theme which is going to appear more in my work in the months to come.  It is ephemeral art which by its very nature means it is going to be painted over.  I want to preserve some of this amazing art in my paintings and if I can introduce a little touch of humour and lightness into the work, so much the better.
I am doing the same in Bristol and you can see more of my work there at http://greatwhiteart.com.   I also want to paint some London street art works, as the talent all around Camden and Kentish Town is AMAZING and I want to get these done before the works disappear.  I am being kept busy.
If you would like to be kept up to date with what I am up to in the near future, please sign up for my Newsletter at the top of the Home page.  I am also on Instagram and Twitter and have a Facebook page called Miche Artist as well as my usual Facebook page.