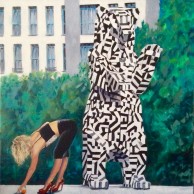 My ongoing project at the moment is to produce works depicting street art and graffiti in and around Bristol, preserving them for history as street art is by its nature, ephemeral and will get painted over in due course.
Bristol is a centre for street art and graffiti and we have just had Upfest on the street where I live, North Street.   Artists from all over the globe descend on my street for one weekend each year to produce the most amazing and stunning works.  Google Upfest, which stands for urban paint festival.   I now have, again, a wealth of images to use as backgrounds for my Bristol City Roving woman or similar.  You can see my work along these lines at Great White Art gallery in Bristol (http://greatwhiteart.com).    I am working along similar lines for the Cape Town gallery, State Of The Art (http://stateoftheart-gallery.com).  They are now in brand new wonderful premises at 50, Buitenkant having moved from Shortmarket Street.
Having said all of the above, I have slightly deviated from street art into portraying an iconic image for Bristol lovers in this piece.  The Bearpit Bear stands on a busy roundabout in the centre of Bristol, so a little artistic licence here. There is no way you could see someone standing next to the bear like this, but I felt it made the composition work.   I like to think the bear is slightly turning away from the blonde bent over picking up her orange, to spare his blushes….
If you would like to be kept up to date with what I am painting in the next couple of months, please sign up for my Newsletter at the top of the Home Page.  I am also on Instagram and Twitter and have a Facebook page called Miche Artist as well as my usual Facebook Page.