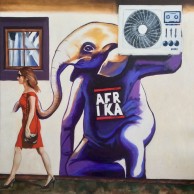 This title came to mind from the Black Eye Pease cd, Elephunk,  but I had to be careful of copyright! Once finished, this piece will be available through Cape Town gallery State Of The Art at their new premises at 50, Buitenkant. (Http://stateoftheart-gallery.com)
I saw this wonderful street art in Woodstock and is listed as being by Falko One and called 'I can't live without my radio'.  I know nothing about his work yet, but see on Instagram he is listed as #falkoone, so I salute you Falko.  He seems to like painting elephants so look up his wonderful  work.
I am incorporating Streetart and graffiti into my paintings to preserve them for the future.  I think it is such a shame they get painted over, but that is the nature of street art I suppose. I would like to paint work in other cities, London, Amsterdam, the possibilities are endless.
When I paint street art paintings for Bristol gallery Great White Art (http://greatwhiteart.com) I more often than not have my lady in red sliding past the colourful background.  As a result, I have come up with the generic title 'Bristol City Rover' for these works.  What could I call the lady in red walking through the streets of Cape Town? Any ideas, PLEASE email me!
This work is nearly finished and I am looking forward to getting down to the detail next week.  Need to get my highlights in.
If you would like to be kept up to date with what I am up to in the next few months, please sign up to my  Newsletter at the top of my Home Page.  I have just sent it out today, so the next one will come out in early December in time for Christmas.  I am also on Instagram, Twitter and have a Facebook page called Miche Artist as well as my usual Facebook Page.