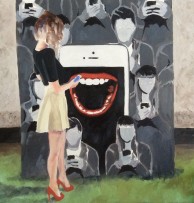 Something a bit different.   I am very interested in street art and graffiti and here in Bristol I am surrounded by a wealth of talent in that field.  I live on North Street in Bedminster and every year my street plays host to Upfest.  Upfest is an urban art festival and artists from all over the world descend on North Street and cover buildings, walls and hoardings with superb streetart and graffiti.  I love watching their progression and always feel a little sad that these wonderful works get painted over in time.  That is the ephemeral nature of streetart.
So what I am aiming to do is to preserve some of these works in my paintings for history.   I am starting with Bristol, but I have in mind other cities such as Cape Town where I used to live, London with the vibrant art of Camden Town and Brick Lane.  I could paint in any city in the world and am open to offers of artist residencies…
This particular hoarding was a temporary structure featuring the work of the artist 'Sign'. I shall be putting his signature onto the phone under the red mouth as it features in his painting.  Just have to wait for the black paint to dry.
My trademark woman is in place, also on her phone, oblivious of the artwork beside her.
If you would like to be kept up to date with what I am up to in the next few months, please sign up to my Newsletter at the top of the Home Page. I am also on Twitter, Instagram and have a Facebook page called Miche Artist as well as my usual Facebook page.