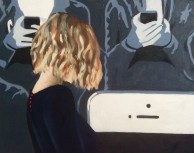 This is a quicker, looser work I completed yesterday.  I originally took a cropped shot of part of 'Voices Of  The People' (See last week's blog for details), put it up on Instagram and generated lots of interest.
The result is this work.   I have called it 'Untitled' because I don't think it needs a title.  As the viewer can't see the phone the girl was holding in the original piece, I can't call it 'Voices Of The People, part 2' or whatever;  it wouldn't make sense.
I like the abstract quality to this painting and enjoyed painting in a looser style with bigger brushes for a change.  With any future street art inspired paintings, I think I will do an extra smaller, more abstract cropped piece alongside it.   Always like trying something new.
If you would like to be kept up to date with what I am doing in the next few months please sign up to my Newsletter at the top of the Home page. I am also on Twitter, Instagram and have a Facebook page called Miche Artist.
This work is 20 x 16″, 50 x 40 cm and is oil on canvas,  not deep canvas.