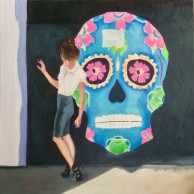 I saw this wonderful street art by Liz Clayton (Instagram lizc_illustration) at The Tobacco Factory on North Street in Bristol where I live, and I felt a painting coming along in my head.
Upfest is an urban paint festival that is held every year on said North Street.  Street art artists and graffiti artists from all over the world descend on my street with their aerosol cans and create individual and magnificent art on every available blank wall or hoarding available.    I feel it is a great shame that these works get painted over so quickly or abandoned.  Street art by its nature is ephemeral.  I decided I would like to preserve some of these works in my own paintings with my trademark woman in the foreground somewhere.  I tag in the artist and ask for their blessing beforehand.
With this piece, still in its early stages, I have changed the eyes to be looking slyly at the young woman just checking on her shoes, hence the title.    I am looking forward to adding in all the detail of the skull without making it overpower the muted tones of the young woman.  I may have to add a touch of red into her skirt somewhere to get the viewer's eyes to move to her as being part of the composition.
If you would like to be kept up to date with what I am up to in the next few months, please sign up for my Newsletter at the top of the Home page.  I send these out quarterly.  I am also on Twitter, Instagram and have a Facebook Page called Miche Artist.