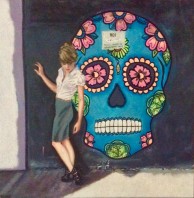 This piece is 60x 60cm, 24 x 24" and is oil on deep canvas.  It will be for sale through Great White Art gallery (www.greatwhiteart.com).
I saw this skull, or calaveras, as I am reliably informed by one of my Twitter followers, on a wall at The Tobacco Factory on North Street where I live.  The Tobacco Factory is a theatre/cafe/bar/and a great supporter of local artists, and street art in particular.  So when Upfest street art festival takes place on this street every year, the Tobacco Factory is a magnet for some of the best street artists from all over Europe.
This particular street art is the work of Liz Clayton (@lizc_illustration) and I love the colours in it.  I have simplified it slightly for my painting as I didn't want it to completely overwhelm the composition, and have put a darker glaze over it to knock it back a bit for the same reason.   I have painted the eyes looking askance at the girl to add a bit of humour, hence the title. They are not like that in the original.
The girl is oblivious of the gorgeous street art behind her.  She is much more interested in checking that her high heeled little boots look ok.  My take on the world as it is today.
What I hope from this painting and all my recent works, is that the young market today can afford to have a piece of great street art on their walls through my work, street art that will undoubtedly be painted over in due time.
If you would like to be kept up to date with what I am up to in the next few months, please sign up for my Newsletter at the top of the Home Page.  I send these out quarterly and thank you to those who have already signed up. I am also on Twitter, Instagram and have a Facebook page called Miche Artist as well as my usual Facebook page.