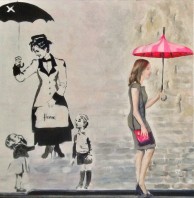 Very much an underpainting still, so maybe a bit confusing to the viewer.
I am a huge fan of the street artist known as Bambi (@therealbambistreetartist on Instagram) and she is also known as the female Banksy apparently.
Her work featuring Princess Diana as Mary Poppins gave me the inspiration for this work.  Her original is much smaller than as shown here, but I wanted to have the woman walking away with the pink umbrella to be of similar height and to bear a passing resemblance to Kate, Duchess of Cambridge.  The two children stencilled on the wall are Prince George and Princess Charlotte.
Further down the line, I will be adding in the words Diana said to Princes William and Harry when they were young : 'You can be naughty as you want, just don't get caught '.  These will be in big red stencilled letters as per Bambi's original work and should pull the painting together.
I am deliberately painting 'Kate' walking past and away from Diana because life has to go on ……
If you would like to be kept up to date with what I am up to in the next few weeks please sign up for my Newsletter at the top of the Home Page.  I am also on Instagram and Twitter and have a Facebook page called Miche Artist.