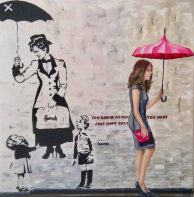 I came across the extraordinary work of street artist @therealbambistreetartist or Bambi and have become a big fan, particularly anything to do with Amy Winehouse who is one of my heroines.
I discovered the Princess Diana graffiti and thought it might work in one of my paintings. I am interested in preserving street art as it is so often painted over, and this way someone can have a piece of street art by buying my work. I love the way Diana is portrayed as Mary Poppins being looked up to by the grandchildren she never met. I also liked the quirky touch of the Harrods bag ! The words sprayed on the wall are words she said to Wills and Harry when they were small boys.
To make the picture my own composition, I have as always added in my trade mark woman, but this time she is going to have a passing resemblance to Kate, Duchess of Cambridge, mother of George and Charlotte. She is walking past the graffiti because she has never met Diana and is walking into the sunshine, leaving behind the rain necessitating Diana's umbrella.
I am always interested in any other feedback on my work. This is only my interpretation and art being subjective means other viewers will have different ideas as to what is happening here. Please do let me know your thoughts, via Twitter, email or whatever.
If you would like to be kept up to date with what I am up to in the next few months, please sign up for my Newsletter at the top of the Home page. I am also on Twitter, Instagram, LinkedIn and have a Facebook page called Miche Artist as well as my usual Facebook page.