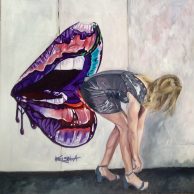 A new work in progress featuring the art of street artist @krishnamalla Krishna Malla.   I saw this artist at work during Upfest last summer down at Ashton Gate Football Stadium.  Upfest (Urban Paint Festival) is held each year on North Street, Bristol, the street where it just so happens I live.  Street artists from all over the globe descend on North Street and it has now spread farther around the area including this year for the first time the football home stadium of Bristol City.
I have adapted Krishna Malla's piece to suit my composition and have his permission to use the work.  Street art disappears over time and I want to preserve some of this wonderful work for the future in my own paintings.  I have added a touch of humour placing my trademark woman bending over to adjust her shoe strap just as the mouth is about to bite her bum.  Juvenile perhaps, but it does draw the eye in.
I am looking forward to getting down to the detail next week once the paint has dried.  In the meantime I shall be starting a smaller similar work.  Watch this space.
If you would like to be kept up to date with what I am up to in the next couple of months, please sign up for my Newsletter at the top of the Home Page.  I send these out quarterly and will be sending the next one out before Christmas.  I am also on Twitter, Instagram and have a Facebook page called Miche Artist as well as my usual Facebook page.