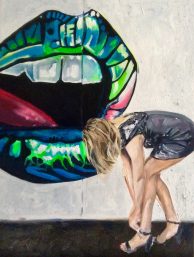 A new work in progress and along the lines of 'Tongue In Cheek' completed recently and on my website.
This is a much smaller piece and is painted on Ampersand board as opposed to deep canvas.  It will give a smoother finish when it is finished.
The large mouth is the second part of a street art painting I saw being painted by the wonderful street artist @krishnamalla last year at Upfest (urban paint festival that takes place on the street where I live in Bristol every year.  It is more to scale than the 'Tongue In Cheek' work, and as yet I don't have a working title.  Any ideas please from fellow Twitterarti or Instagrammers?!  Please look at past blogs here on my website to see more of my thinking on preserving street art in my own paintings. I always seek the street artists' permission to use their work in my own compositions.
If you would like to be kept up to date with what I am up to in the next few weeks please sign up for my Newsletter at the top of the Home Page.  I am also on Twitter and Instagram and have a Facebook page called Miche Artists as well as my usual Facebook page.
It only remains for me to wish you all a very happy, peaceful and hopefully fun filled Christmas.  I won't be painting for a few days as will have a house full of family, but I don't like being separated from my paint brush for too long so will see you all next week for my next blog. Cheers !