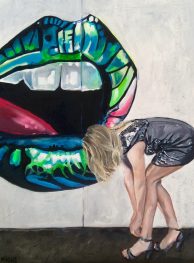 This is a smaller piece, 35 x 25 cm (13 x 9") and is oil on Ampersand board, unframed as yet.
I had painted the larger piece, Tongue In Cheek, on deep canvas and then decided I would like to feature the second part of the amazing Krishna Malla's street art (@krishnamalla) in another composition; it seemed such a waste to not incorporate the other half into a painting.
This time however, I am using Ampersand board, which I like to use for my smaller works.  It gives a lovely smooth finish which helps with the more detailed work needed in a small painting.
I feel I have found my niche with using street art in my figurative paintings ….Miche's Niche haha.   Living on North Street in Bristol I always have an endless supply of wonderful graffiti and street art being  supplied for  Upfest, the urban paint festival held here each year, and I am anxious to preserve these before they get painted over the following year.
If you would like to be kept up to date with what I am up to in the next few weeks please sign up for my Newsletter at the top of the Home page. I am also on Instagram and Twitter and have a Facebook page called Miche Artist as well as my usual Facebook page. I will be sending this out shortly and send them out quarterly.
I wish you all a very Happy New Year and thank you for your support this year.