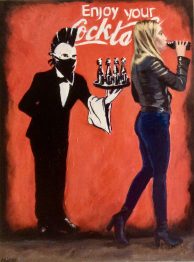 This is a small piece, 12 x 10", 30 x 25 cm, and I painted it alongside a larger work (I'd Like To Teach The World To Sing) but with a different pose.  I used the same model, but in this work, she either hasn't seen or has ignored, the street art waiter serving his Molotov Cocktails.  In the larger work (see previous blogs for details) the blonde was toasting the waiter.  In both paintings she prefers Coca Cola to Molotov.
I was inspired by the street artist @brknwrld for this painting.  I always obtain the permission of the street artist before I incorporate their work into the background of my own composition, and then tag him or her into my Instagram page so as to bring them added publicity.  I am interested in preserving street art, but place my 3D woman in such a way that it relates to the 2D street art but also changes the dynamic of it and vice versa.  If that makes any sense..
If you would like to be kept up to date with what I am up to in the next few weeks please sign up for my Newsletter at the top of the Home page.  I am also on Twitter, Instagram and have a Facebook page called Miche Artist.  Feel free to drop me a line.  Feedback is always welcome.
Oil on board, unframed for now.   Will be on sale at Great White Art gallery, http://greatwhiteart.com.