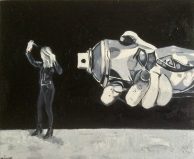 This is a small study based on the original 'Global Warming' painting and is in black and white with a slight touch of red on the aerosol.  Please see previous blogs to explain my thoughts on this theme.
My apologies for short blog this week.  My partner has terminal aggressive cancer and I just am not able to write much today.  Hopefully next week will be better.
This piece will be available through Great White Art gallery as of next week, http://greatwhiteart.com.  It is 12 x 10" and is oil on board.  It will have a black frame.
If you would like to be kept up to date with what I am up to in the next few weeks please sign up for my Newsletter at the top of the Home page. I am also on Twitter and Instagram and have a Facebook page called Miche Artist.