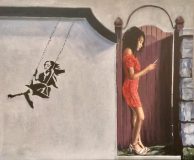 This title is a take on today's society.  Everywhere I look these days, everywhere I walk, every restaurant or cafe I sit in, I see people, particularly the young, glued to their smartphones.   Sitting with friends at the same table, all their heads are down, scrolling away on their phones.  How is this going to play out in the future?  Where do we go from here ?  And what is this doing to our backs ? (I have osteoporosis so am particularly interested in this aspect).
So to the painting.  I saw this Banksy copy and a germ of an idea started in my mind.  I always try and get the street artist's permission to use their work in my compositions, but have been unable to trace the artist who made this copy.  Likewise I received no reply to my request to Banksy (Pest Control) so am having to keep my fingers crossed he/they are happy with this piece.
A long time ago, an art dealer told me a touch of red in a painting always lifts it and results in more sales, so here we are!  I am grateful to Natalia Green for being the perfect muse here.
My take of course is that the young woman is too busy reading her phone to spend time babysitting the child, albeit a stencil, and missing out on precious time hopefully spent in the sunshine together.
If you would like to be kept up to date with what I am up to in the next few weeks please sign up for my Newsletter at the top of the Home page. I am also on Twitter, Instagram and have a Facebook page called Miche Artist.