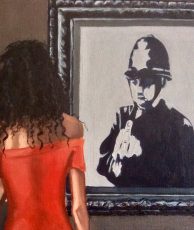 My thought for the day from Winston Churchill:  'Success consists of going from failure to failure without loss of enthusiasm'.
My beloved partner died in March from brutal, quick and aggressive cancer.  During those last few months I did indeed lose my enthusiasm to paint.  Since his death however, my enthusiasm has returned, albeit reluctantly, and I feel I am painting better than ever.  I have freedom to surge forward and my brain is fizzing with new ideas for my street art inspired work.  I am excited, energised and each day just want to paint more and more.   But oh, how I miss my darling Les, would that he were still watching me paint as he used to.
This new work will be a take on another Banksy that I saw on The Hidden Gallery's Instagram page (@chrisathidden).  Banksy's website (Pest Control) doesn't reply to my request to incorporate his work into my art, and Hidden Gallery reckons he would be fine with this angle, so on I go.  This will be the last Banksy for a while as I have new ideas for the next piece which will be more locally inspired.
There will be two young women in this painting looking at the 'Rude Copper' by Banksy in an imagined gallery and the title Good Cop, Bad God sprang to my mind as I looked at the two sides to the Banksy and the two women arm in arm.  Should finish it this next week.
If you would like to be kept up to date with what I am up to in the next few weeks please sign up for my Newsletter at the top of the Home page.  I am also on Twitter, Instagram and have a Facebook page called Miche Artist.