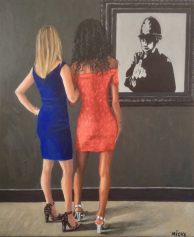 I had the idea for this piece having seen the Banksy 'Rude Copper' in various incarnations.  I particularly liked the idea of it as a framed artwork, but took out the graffiti lettering as seen in the original, as it didn't work with the idea I had in mind.
I always seek the permission of the street artist to incorporate their work into my painting before I begin and have never yet been refused;  until now.  I have emailed Banksys 'agent ' at  Pest Control and had no reply.  However, the Hidden Gallery (chris@hidden) where I first saw this Banksy, commented that Banksy probably wouldn't be too precious about this, so fingers crossed.
I wanted the two girls to be completely different in how they looked, but they needed to look really smartly dressed, as if at a Private View, which maybe would have irritated our Rude Copper, hence the Good Cop Bad Cop title.  Just my own sense of humour, the viewer may make of it what he/she wants.
I am delighted to be collaborating with Alex Lucas for my next artworks, as she is a wonderful street artist. Have a look at her art on Instagram at @lucas_antics.  Her streetart is all over Bristol and beyond these days.  Watch this space!
If you would like to be kept up to date with what I am up to in the next few weeks please sign up for my Newsletter at the top of the Home page. I am also on Instagram, Twitter and have a Facebook page called Miche Artist.