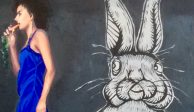 My alologies, I've been on holiday for 10 days, so no Blog.  However, I am now refreshed, recharged and ready with new ideas for my paintings.
I am collaborating with Alex Lucas, @lucas_antics on Instagram, who is a well known street artist, particularly here in Bristol.  She has painted some wonderful artwork around the Stokes Croft area of Bristol and I am sure will feature heavily when Upfest takes place at the end of this month (Urban Paint Festival when Street Artists from all over Europe descend on my street North Street and its environs to paint awesome street art and graffiti; please Google for more information).
There is a new, presently temporary, art gallery opened up on North Street called North and I will be showing my work there from mid July which neatly includes Upfest weekend.  I am delighted to have this exposure.  If you're in  Bristol,  do pop in and have a look.  I might be there too.
So to this detail of a piece which features one of Alex Lucas' rabbits.  Both she and I are represented by Great White Art Gallery (http://greatwhiteart.com) which gave me the idea of collaboration.  In this work,  the rabbit will be looking enviously at a girl walking past,  nonchalantly eating a carrot.  Thank you @linda_eco_design for the beautiful blue upcycled fabric dress and @stephbridet for being my model.     Now I need a title, any ideas out there please ?
If you would like to be kept up to date with what I am up to in the next few months please sign up for my Newsletter at the top of the Home page.  I am also on Twitter, Instagram and have a Facebook page called Miche Artist.