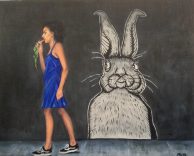 I finished this painting this afternoon with one eye on the Federer/Anderson tennis match which kept me fired up.   The rabbit is based on a street art work by Alex Lucas here in Bristol.  With her permission I have incorporated it into my own composition.  There are several of her murals scattered around Bristol, and she is, like me, represented by Great White Art gallery (http://greatwhiteart.com) so I am loving collaborating with her.  More ideas in the pipeline.
The model, Steph Bridet (see Instagram) is wearing an upcycled dress made by Linda Thomas (@linda_eco_design) and the organic carrot came from my local greengrocer Hugo's here on North Street.
I apologise for Steph nicking the rabbit's carrot…..
Next week from the 19th July, I will be showing my street art themed work at a new gallery here on North Street, aptly called North, alongside a group of fellow artists.  This exhibition neatly includes the weekend of Upfest at the end of July, which is, I think, the biggest urban street art festival in Europe.  I am delighted to be part of this world, so drop by and have a look if you are passing.  I will be stewarding for some of the time over that weekend, so please introduce yourselves to me.
If you would like to be kept up to date with what I am up to in the next few months please sign up for my Newsletter at the top of the Home page. I am also on Twitter, Instagram and have a Facebook page called Miche Artist.
Now back to the tennis of Nadal/Del Potro followed by the football.