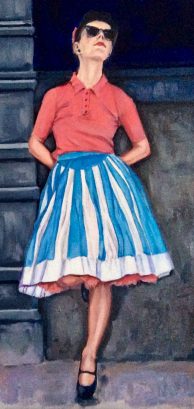 My apologies for the long break from my Blog.  My partner died from very brutal and swift cancer and I have had to rethink my life, ideas for the future etc.   Losing the man who was indeed my 'North, South, East and West' or however that poem goes, has made me realise life is short and I needed to slow down and take stock.
But life of course does have to go on, and I just have to paint, it is in my DNA.  So here we go for 2019.  I will be following the less is more train of thought, though, think.
This lady leaning back enjoying the sunshine is not completed yet, but the groundwork is in.  She is going to form part of a street art themed piece featuring the wonderful work of @pietrodriguez (have a look at my Instagram page to see which artwork of his I am using ).
I watched Piet painting this streetart during Upfest last year, the urban paint festival held on my street here in Bristol, UK, every year.  I just thought his work was amazing and with his kind permission I now have  a new composition to work on.  More anon.
If you would like to be kept up to date with what I am doing in the next few months please sign up for my Newsletter at the top of the Home Page.  I am also on Twitter, Instagram and LinkedIn.  Feel free to email me at michetoots@yahoo.co.uk.