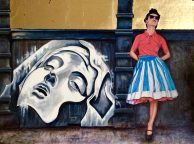 This is my first experiment with gold leaf and I have enjoyed the process.  It adds colour and vibrancy to the monotone shades of the streetart and highlights the girl standing gazing up into the sun.  I have not used real gold leaf as I can't afford it (yet), but I am happy with the outcome.
I painted a small piece first (18 x 24 cm) to test out a) the composition and b) the use of the goldleaf and it sold the day it went into the gallery   North Gallery on North Street here in Bedminster, Bristol, UK (https://northgalleryworkspace.co.uk) so I felt I was doing something right.
I saw the street artist @pietrodriguez painting this wonderful street art opposite where I live on North Street, home to the Urban Paint Festival known as Upfest and asked his permission to use it in my composition.  He kindly agreed.  I am indebted to Emily White as my muse for this piece (@ablemabeldesigns).
I have titled this artwork 'Sun Seekers' as both girl and street art are looking upwards in search of the sun.
Hopefully this piece will be available to buy from Great White Art gallery (https://greatwhiteart.com) in Bristol once I have it framed up next week.
If you would like to be kept up to date with what I am up to in the next few weeks please sign up for my Newsletter at the top of the Home page. I am also on Twitter, Instagram, LinkedIn and have a Facebook page called Miche Artist.  Feel free to email me at michetoots@yahoo.co.uk.