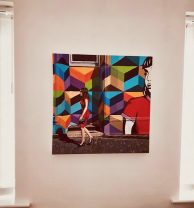 It's always so good to see my artwork in a new home and I am grateful when clients take the time to photograph it and post it on social media.  So thank you, as this was one of my favourites.  I use streetart in my compositions as I am keen to promote and preserve this ephemeral art.  
This is one of the first street arts I incorporated into my work and it is by the amazing street artist @paulmonsters.  He describes himself as a pattern maker on Instagram and I find his colourful geometric shapes fun and uplifting.    The streetart was part of the Upfest festival on my street in Bristol, UK.
As people who read my Blog will know, I place a woman somewhere in the foreground which changes the dynamic of the street art, the 3d woman bringing the 2d streetart to life and vice versa.  In this piece I feel the woman on the wall is watching the woman in red walking past her and wondering why she didn't notice her.   I wanted to show the bright midday sunshine on the girl walking, described by her shadow on the pavement, as it seems harder/harsher.
The work was oil on deep canvas.
If you would like to be kept up to date with what I am up to in the next few weeks please sign up for my Newsletter at the top of the Home page.  I am also on Twitter, Instagram and have a Facebook page called Miche Artist.  Feel free to email me at michetoots@yahoo.co.uk.