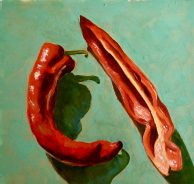 So a new departure for me.  I have recently discovered painting 'alla prima' or direct painting in oils and have become obsessed  with this style of painting.    I set up a composition, always small, of fruit or vegetables and set myself a time limit of painting it in one session, hence direct painting.  The size is 6 x 6", 9 x 9" framed (23 x 23 cm).
I set the compositions up in direct sunlight (not easy in this country) which is usually at around lunchtime, so as to get the deepest and more interesting shadows beneath the fruit/veg.  Then I paint.   I have always liked bright, vibrant Mediterranean colours and this works to great advantage with these paintings.
I tend to buy fruit/veg in season from my wonderful local organic greengrocer Hugo's Greengrocer  (@hugosgreengrocer on Instagram) on North Street in Bristol where I live, so every painting is always fresh and new.
If you would like me to match a composition to suit your wall decor, send me an image of your kitchen, etc., and I will be happy to do this for you.
The paintings are framed in a simple white frame for £65, or can be posted to you easily unframed, for £60.  I have a PayPal account.
The above painting is sold, but there are more available in my website and at the greengrocers above, and also at North Gallery on North Street (@northstreetgallery on Instagram).
So to sum up:    SMALL IS BEAUTIFUL.
If you would like to be kept up to date with what I am doing in the next few weeks please sign up for my Newsletter at the top of the Home Page.  I am also on Instagram, Twitter and have a Facebook page called Miche Artist.
Feel free to email me at michetoots@yahoo.co.uk