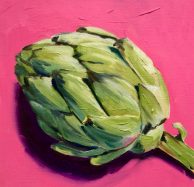 Many of you will know that I have recently been diversifying and painting these small fruit and vegetable paintings.  These have been proving popular, so I am experimenting with different subjects,  the most recent being donuts, particularly the Krispy Kreme variety as they are bright and colourful.  Someone said to me once that they don't even like donuts, but for some strange reason are drawn to my donut paintings and again these are selling well.
I am today having fun painting my first flower in the same style, bright, cheerful colours with pronounced shadows.  Today it's a Californian Poppy, that wonderful bright yellow and orange contrasting against a turquoise blue background.  It will be up on the website next week.
As a result of increased sales, I am often being asked on my Instagram page whether I have a catalogue of available paintings.  Normally customers trawl through my Instagram page and then contact me direct to ask if a certain painting is available to buy.  Now at last I have set up a Catalogue where you can just click through to buy the painting of your choice, and I have even sorted out shipping and postal prices (tracking included).     So please have a browse, the link is at the top of the Home Page, and any problems please email me at michetoots@yahoo.co.uk or DM me on social media.