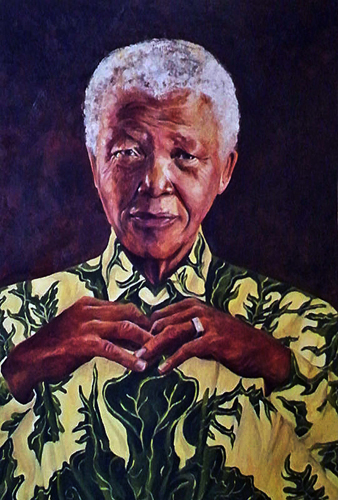 In the lull before I start a new work this weekend, I thought I would talk about the painting that is on the frontpage of my website,  www.michewatkins.com.
I spent 5 years in Cape Town and came to love, like the rest of the world, Nelson Mandela, known as Madiba locally.  I particularly liked his eyes (like one of my other portraits of Amy Winehouse) and the gentleness, but also steely resolve, which I wanted to paint to the best of my ability.
I used a photo from the internet of course, not having recourse to getting to him to sit for me(!) and think I managed to achieve my objective.  For some reason I have a dislike of using brown paint and avoid it as much as possible.  Obviously for Madiba's skin colour I had to use some, but I added in shades of pinks, purples and violets wherever possible.  These days with a bit more confidence and experience, I would also have added in some of my beloved Kings Blue Deep (Michael Harding) to add interest.
Often the best part of a painting for me is putting in the delicate highlights at the end, the little white in the pupil of the eye, and the hint on the nostrils – a tip Rolf Harris gave years ago on one of his painting programmes.
The shirt was a nightmare to paint, as I am very impatient with this sort of work.  For flesh tones I can be endlessly patient, but material like this makes me want to climb walls!
The hands in the internet photo were quite pixellated, so my partner kindly modelled for me, so possibly the fingers are slightly longer than they should be….
The final painting was sold to a buyer in Johannesburg, so I am very happy that Madiba has stayed in South Africa.  It is one of my all time favourite paintings.
www.michewatkins.com