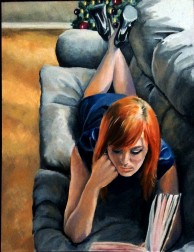 Completed and happy at last….
I have so enjoyed the composition of this piece. It is a restful pose, very peaceful, although I am not sure how many women keep their shoes on to read their book. My shoes are the first thing to come off when I come home – it must be an enthralling novel.
I was going to leave out the Christmas tree initially, not being sure if it helped the composition, but in the end I decided it added to it, hence the title of the work. Christmas is such a busy time and sometimes one just wants to escape it all and settle down with a totally absorbing book.
The red hair has been a real bonus to paint and I am very happy with how this has turned out.
So next in my head is a scene in a Mexican bar with some Mojitos to hand, girls having fun on a Friday night. More next week!
Keep up to date with what I am up to by signing up for my Newsletter on the Home page of my website.
www.michewatkins.com