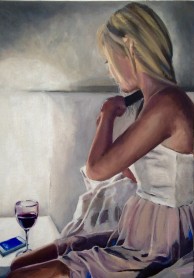 This work is 14 x 10″ and will I think be completed next week.
There is a painting called Wishing, Waiting, Wanting on my website which is framed in a cool, contemporary dark wood frame (email me for photo image), which was to be included in my work at the Affordable Art Fair in Hampstead. However, the gallery I am with in London has now decided to take my work to Miami Art Fair instead and for this they require larger paintings. So the work is now available on my website to buy.
The reason for mentioning the above is that I thought it would be great to paint another work to compliment 'WWW'. The blonde young woman fits with the dark brunette putting her hair up; they are both quiet, peaceful works and I am looking forward to seeing them side by side.
If you are interested in purchasing one or both of these works, please get in touch – I am open to offers on one or either.
I have had great feedback on titles this piece, but am still not totally decided. Since adding in the phone I am getting closer, but please let me know if any of you have ideas!
If you would like to be kept in with what I am up to in the next few months, please sign up to my Newsletter at the top of my Home Page.