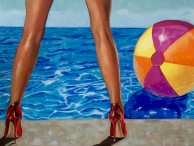 So we have a title. I  just hope you won't all think of Buzz Lightyear from Toy Story…..
I had so many great titles suggested from my friends on Twitter, it was really difficult to choose. However, I like the idea of our lady staring out to sea, to the infinite possibilities ahead of her, or indeed the infinite possibilities of what she may be leaving behind.  Thank you to all who came up with suggestions.
I loved putting detail of light reflecting off the water onto the beachball. To me it makes a real difference to the look of the ball, and also I have been playing around with the reflection of the ball in the water.   In fact I have liked as always, adding in the details, the shine on the shoes, the subtle tones to the flesh etc etc.
Decided to add a touch of blue from my palette to the mix for the flesh of the legs and am glad how that has turned out. Sometimes art is just about happy accidents in getting something to work.
If you would like to be kept up to date with what I am getting up to in the next few months, please sign up for my Newsletter at the top of r Home page. It looks as if my work might be going to New York next year as well as Miami this year.  Exciting times.
I also have a Facebook page called Miche Artist and am on Instagram.