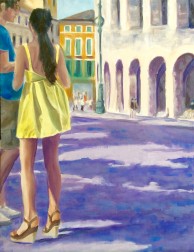 Beginning to work up the detail on this painting and I think it will be finished next week when I can get get down to the fine detail.   It is never easy  trying to get a balance between an impressionistic looser style of painting which  I want to get right on the background and a tighter more controlled finish on the girl's dress and the skin tones.  We shall see…what I don't want is to end up with a 'chocolate box' style of painting.  This can happen if the artist starts using smaller and smaller brushes, so I have resisted the temptation to go below a size 3 brush.  However next week may change that…
I still haven't got a title yet in my mind so if anyone has any ideas, please send me a Tweet. My Twitter followers haven't let me down in the past!  The original photo was taken in Verona, Italy and the lovely building in the forefront is the Arena which is massive and still in very good condition.   I was totally blown away by Verona, stopping off there on my way through from Milan to Venice on the train.  It is a  truly  beautiful city.
I have recently taken a load of new photos for future paintings and am so excited about them and can't wait to start work.  Watch this space!
If you would like to be kept up to date with what I am up to in the next couple of months, please sign up for my Newsletter at the top of the Home page.  I will be sending out the next one this weekend.  I am also on Instagram and have a Facebook page called Miche Artist.