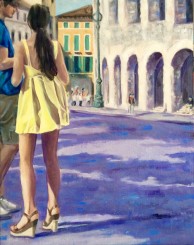 This was an interesting painting to complete as I wanted to keep a slightly impresssionistic feel to the work but also wanted to work up the detail on the two figures, particularly the lemon yellow dress.  If I had detailed the background too much I think that a) it would take attention away from the couple in the foreground and b) the work would become too tight and 'chocolate box' in appearance.  I am happy with the finished painting.
Next week I begin a series of paintings using photos I took recently of one of my favourite models in a new setting.  I am hugely excited about this and can't wait to get started.  Keep a check on the Blog for updates.  I am looking forward to getting back to interiors again.
Great White Art gallery in Bristol (www.greatwhiteart.com) just completed a two week exhibition on Pop Art and several of my Line Art acrylic paintings were featured.  If you are in Bristol do drop by and have a look.  They are a sister gallery of Clifton Fine Art gallery three doors up on Perry Road (BS1 5BG).
I have just sent out my latest Newsletter with news about two upcoming Art Fairs featuring my work in Miami and New York in the New Year (www.steidelfineart.com).  If you would like to be kept up to date with what I am up to, please sign up for my Newsletter at the top of the Home Page.  I also have a Facebook  page called Miche Artist and am on Instagram.