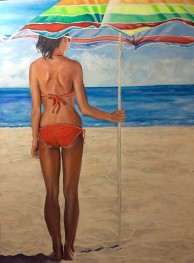 Well, I asked and got so many suggestions for titles for this piece, so thank you to all on Twitter for your ideas.  A difficult choice to make, but in the end I liked the contemporary feel of this title.  Thank you Mark Pearson!
You can make of this composition whatever you like. It could be a woman looking out to see seeing storm clouds on the horizon and comparing it to her life.  Or she could be seeing the calm waters and flat horizon and she at lasts feel at peace.  Or she could just be hot and cooling off under the parasol! This is why I so love painting narrative works, as the viewer makes up his or her mind as to what is happening. What I may intend to happen is probably completely different to what the viewer sees.
I have a wealth of new images from my stay in Cape Town and can't wait to get started; but will probably paint something completely different initially to give me a change from painting  water….
http://stateoftheart-gallery.com in Cape Town are now showing my latest street art Graffiti Line Art.  They are a great online gallery with a physical presence on Shortmarket Street.  Drop in and have a look  at the originals or look online.
If you would like to be kept up to date with what I am up to in the next few weeks please sign up for my Newsletter at the top of my Home Page.  I am also on Instagram, Twitter and have a Facebook page Miche Artist alongside my usual FB page.