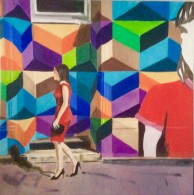 This is a new painting I am working on alongside 'Don't Be A Dick' which is nearing completion.
As with 'Don't Be A Dick', I am interested in painting local, recognisable, sometimes iconic scenes as a backdrop to my usual trademark female figure.  So for Cape Town, we have the House Of Machines cafe with its eye catching Dont Be A Dick (no apostrophe!) and the bright red walls of the State Of The Art gallery where I show my art (http://stateoftheart-gallery.com ) to set off the girl with her ubiquitous mobile, a statement of our times.
So it is with 'Bristol's North Street Blues…'.  North Street is the lively, vibey street where I live,  home to cafes, bars, independent shops and of course the street art festival Upfest held every year when graffiti and street artists descend on North Street from all over Europe to paint their distinctive scenes.  I am particularly drawn to this recent street art which appeared and I decided to place my model in the front of part of it, sliding by in a bright red dress, oblivious of the scene beside her.  Again, possibly a statement of our times.  Hopefully, when this painting is completed, it will be on show at Great White Art gallery in Bristol (http://greatwhiteart.com ).  I intend to do a series of local scenes along the lines of this work, so keep reading the blog for more info.
ArtExpo in New York has finished and was a great place for exposure to my Line Art.  A big thank you to Steidel Fine Art for their representation of my work.  See more at http://steidelfineart.com.
If you would like to be kept up to date with what I am up to in the next few months, please sign up to  my Newsletter at the top of the Home Page.  I am also on Twitter and Instagram, and have a Facebook Page called Miche Artist, as well as my usual Facebook page.